Translational Medicine
The Feinberg Cardiovascular and Renal Research Institute is launching a unique approach to translational medicine at Northwestern. Through this initiative, led by Lorenzo Gallon, MD, we will create a new model for nurturing interest and scholarly activity in research as it relates to the medical and biological sciences in medical housestaff, fellows, medical students and faculty.  
Our goals for this initiative include:
Hosting a quarterly seminar series that highlights translational research that has led to significant changes in clinical practice
Enhancing interdisciplinary collaborations across departments (through seed funding and administrative support) to bridge discovery in research and clinical medicine
Establishing international institutional collaborations
Fostering development of IP from the activities of the Center
Developing programmatic research initiatives  (e.g., identification and characterization of the circulating FSGS factor, APOL1 variants and risk of renal diseases) 
International Collaboration
A central goal is to establish international partnerships to accelerate implementation of research discovery to the clinic. These partnerships will include clinicians, scientists and pharmaceutical representatives who are best suited to address complex clinical diseases. The inaugural partner will be Mario Negri Research Institute in Bergamo, Italy.
FCVRRI Pilot
While we hope to establish this methodology across many areas of medicine, the pilot program will focus on rare and common genetic forms of renal disease. We want to become a destination for testing potential therapies and provide a broad platform for research and training in translational medicine as it relates to kidney function and disease.
Learn More
For more information about this initiative, contact us.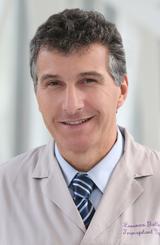 Lorenzo Gallon, MD
Director, Translational Medicine
Professor in Medicine-Nephrology and Surgery-Organ Transplantation